By accepting the invite to join Ria Jean's Exclusive Membership Club you are joining a Club that has so many amazing things to offer.
As Ria's popularity grew it became important for her to get to know her fans and let her fans truly explore Ria Jean Schumacher. The idea of being more connected with her fans from around the World gave birth to this website. Ria was quoted in an interview when asked about her new website:
"I wanted to invite my fans over for coffee…for dinner…to hang out. Just so I could really get to know them on a personal note. I receive so many letters of love and support its overwhelming in a really good way, but left me wanting to know more about the people behind the Love. This website was created as a way to send an invite to my fans to come to my place. When they join my  membership it's literally like holding the front door open and allowing them to walk through my front door, sit down and get to know me. These days people use social media to be whoever they want to be. I wanted my fans to be able to see that on or off camera I am the same person. With me what you see is what you get and I wanted the opportunity to get to know my fans in the same way."
Ria welcomes you and invites you to take that step into her world by joining her private membership today!
Your Membership will give you instant access to Ria Jean Schumacher's personal photographs, home videos, live videos, daily blog, the full REALLY!Ria's Webstore, and so much much more!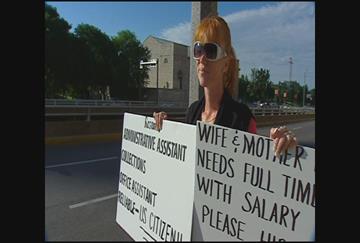 2012
Released from prison at the age of 28, Ria struggled to find decent wages with a felony conviction. When her water was turned off Ria Jean took to the streets holding a sign bearing her resume. Her plan worked and she was able to gain employment the same day! Once again Ria was able to overcome the obstacles in her way and believes that if she can do it, anyone can!